Real Scale Fire Tests and Other Special Tests
We offer the following special tests: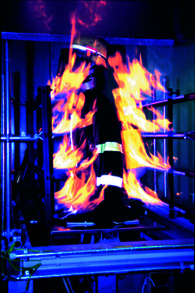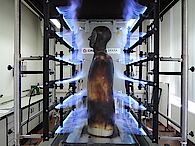 Body Protection
Flame engulfment testing of breathing apparatus (Flame Engulfment Test DIN EN 137, ISO 16900-10)
Testing of fire brigade helmets (Flame Engulfment Test DIN EN 443)
Firefighter multipurpose bag (Flame Engulfment Test DIN 14922)
Body protection clothing (Police and other) - Fire- and chemicals Tests according to TR2009/Rev. 2011
International Standards
IEEE 1202 - IEEE Standard for Flame Testing of Cables for Use in Cable Tray in Industrial and Commercial Occupancies
CGA C-14 Procedures for Testing of DOT Cylinder Pressure Relief Device Systems, published by the Compressed Gas Association, Incorporated
Analytics
Real-Scale Fire Tests
Extinguisher Systems according to rules by VdS / UL
Tooling machines
Transport Container (IBC)
Household appliance (White goods)
Complete car fire testing
In our test facilities (e. g. 25 m and 90 m fire tunnels) we can handle fires up to 35 MW heat release.
We are testing fire suppression systems according to VdS or UL regulations for buildings, ships, vehicles (busses, racecars, etc.) and other applications.
Fire safety measures in tooling machine can vary. Depending on the type of cooling lubricant and the processed material (e.g. light metals), it can be necessary to install small extinguishing systems with different agents (water, CO2, foam, etc.). Even pressure-release openings might be necessary. BGI/GUV-I719 or DIN 14497 can help as a guide. However, as there are no clear requirements, individual problem solving is often needed. Writing and testing against an individual test procedure which depend on common regulations is something DMT-Test Laboratory for Fire Protection can do for you. DMT can test and confirm the suitability of those individual fire safety measures on tooling machines customer specific.
Testing of bulk containers (IBC) in dependence to UL 2368 is also possible.
Different tests on household appliances (dryer, refrigerator – so called white goods) are feasible according to test standards or to individual request.
Following list gives an overview of already conducted tests and shows our general portfolio. It is not conclusive; we would gladly discuss any individual request with you.
Extinguishing systems for transformers according to DMT test standard
Fire behavior of wood pellets and chips
Reconstruction of fires on household Equipment
Testing and confirmation of small water extinguishing systems for tooling machines
Testing and confirmation of small CO2 extinguishing systems for tooling machines
Testing of pressure-release openings in tooling machines
Aerosol systems for switch cabinets, turbines or rooms
Transport systems for lithium batteries
Car fires with lithium batteries / alternative cooling agents
Testing of custom made fire safety measures with new extinguishing agents (e.g. PyroBubbles®)
complete cabins or facilities (all kinds of vehicles, buses, trains, ships, etc.)
shock Absorber (bumper) according to CGA-C14
to be continued